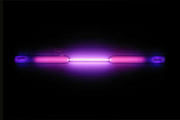 Argon is a noble gas that generates a purple glow when electricity is passed through with a atomic number of 18.
Argon is the third most common gas in the Earth's atmosphere, at 0.93% (9,300 ppm), making it approximately 23.7 times as abundant as the next most common atmospheric gas, carbon dioxide (390 ppm), and more than 500 times as abundant as the next most common noble gas, neon (18 ppm). Nearly all of this argon is radiogenic argon-40 derived from the decay of potassium-40 in the Earth's crust. In the universe, argon-36 is by far the most common argon isotope, being the preferred argon isotope produced by stellar nucleosynthesis in supernovas. In addition, argon is the most prevalent of the noble gases in Earth's crust, with the element composing 0.00015% of this crust.[6]
Ad blocker interference detected!
Wikia is a free-to-use site that makes money from advertising. We have a modified experience for viewers using ad blockers

Wikia is not accessible if you've made further modifications. Remove the custom ad blocker rule(s) and the page will load as expected.