| | | |
| --- | --- | --- |
| | This page is one of the best pages from the community and may become a featured article! Go to the article's talk page to vote on or against the article. | |
This article is about an undiscovered element. Once it is discovered, this article will be edited with more information.
Biunoctium

Symbol

Buo

Atomic Number

218

Group, Period

2,8,18,32,50,50,32,18,8

Discoverer

N/A

Date discovered

N/A

Location discovered

N/A

Atomic weight

622 (predicted)

Category

Possible noble gas
Biunoctium is a very heavy theoretical element with 218 protons, and a mass of 622. It is a predicted noble gas.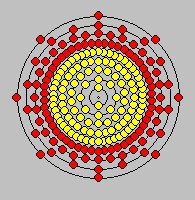 Currently, Biounoctium goes under a systematic temporary element name. As element 218 possibly a noble gas, is the heaviest element predicted, with the most protons. Since it is very far in the periodic table & never has been made we know very little about it and it is hard to actually find something with this title.
References
Edit
Ad blocker interference detected!
Wikia is a free-to-use site that makes money from advertising. We have a modified experience for viewers using ad blockers

Wikia is not accessible if you've made further modifications. Remove the custom ad blocker rule(s) and the page will load as expected.