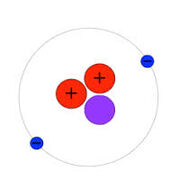 Helium-3 (
He-3
) is a light, non-
radioactive
isotope
of
helium
with two
protons
and one
neutron
. It is rare on Earth, and it is sought for use in
nuclear fusion
research. The abundance of helium-3 is thought to be greater on the Moon (embedded in the upper layer of
regolith
by the
solar wind
over billions of years),
[1]
though still lower in quantity (28
ppm
of lunar regolith is
helium-4
and from one to 50
ppb
is helium-3)
[2]
[3]
than the
solar system
's
gas giants
(left over from the original
solar nebula
)!
Ad blocker interference detected!
Wikia is a free-to-use site that makes money from advertising. We have a modified experience for viewers using ad blockers

Wikia is not accessible if you've made further modifications. Remove the custom ad blocker rule(s) and the page will load as expected.